Bitcoin (BTC), closed above the 200 week moving average (WMA), for two consecutive weeks. according Ali Martinez, market analyst
Martinez pointed out:
"Bitcoin printed a second consecutive weekly candlestick close above the 200-week MA. To maintain this critical level of support, BTC must trade above $23,000 each week. Notice that all previous BTC bear markets since 2014 ended around the 200-week MA."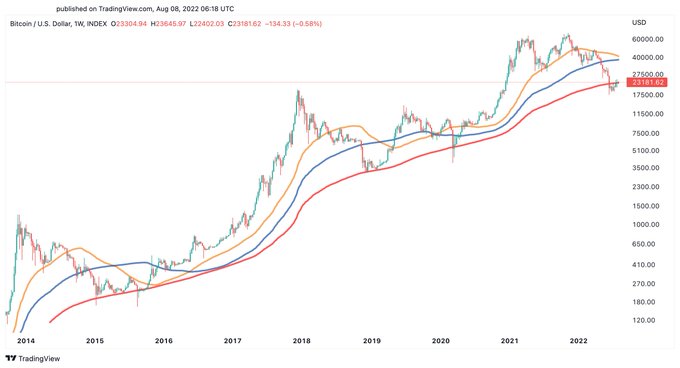 Source:TradingView/AliMartinez
The 200 WMA is a long-term indicator that shows a market's bearish or bullish trend. Martinez believes Bitcoin must close above $23,000 in order to keep this important support level.
According to CoinMarketCap, the top cryptocurrency was trading at around $23,073 per day during intraday trades. CoinMarketCap.
On the other hand, Bitcoin's open interest has been experiencing an uptick. Mike McGlone, Bloomberg analyst stated:
"If CME-listed futures are a guide, the maturation process of Bitcoin and Ethereum It is moving well with positive price implications. Bitcoin open interest is steadily trending upward, Ether futures' 90-day volume is at an all-time high, and the curve is tilting toward earning income."
These are bullish signs, as well as the fact that BTC deposits to exchanges have fallen to a 2-year low The narrative seems to be shifting.
A hodling culture is evident by low crypto deposits on the exchanges. Coins are mostly kept in cold storage and digital wallets for future uses other than speculation. 
Meanwhile, crypto investment products are seeing an increase in inflows. Blockchain.News reported. 
Source: Shutterstock