Bitcoin (BTC), which has surged past $19K, gained momentum after falling to lows at $18.3K following the October 13 release of U.S. inflation data.
Ali Martinez, market analyst believes that the top cryptocurrency should remain above $19,000. This is to decrease selling pressure as it is significant. He pointed out:
"Roughly 2.5 million addresses bought nearly 1.5 million BTC at $19,200. These investors will feel greater pressure to sell their long BTC positions and cut losses if Bitcoin trades below $19,000 for a longer time. Consequently accelerating the downward pressure."
Blockchain.News reported that the United States Bureau of Labor Statistics (BLS), published the most recent inflation figures, with the Consumer Price Index for all urban consumers increasing by 0.4% in September.  
A broad market reaction was triggered, sending chills down the crypto market. Bitcoin fell to $18,319. 
Crypto insight provider Santiment stated:
"Thursday has been an expectedly volatile day after inflation data was released. Bitcoin's price dropped to $18.3k. It was its lowest point since September 21st. However, as traders were in the midst of stopping the bleeding, BTC & the SP500 rapidly recovered."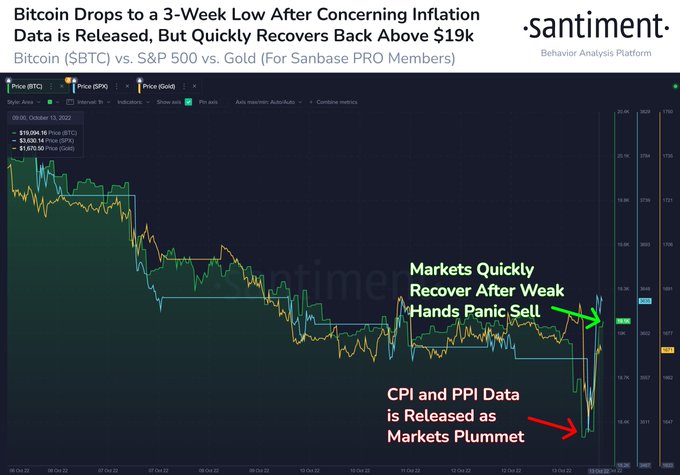 Source: Santiment
Even though Bitcoin's social dominance has dropped based on the back-and-forth experienced in the market, the leading cryptocurrency was up by 3.38% in the last 24 hours to hit $19,623 during intraday trading, according to CoinMarketCap.
Since some traders have been eyeing short-term pumps, this has also caused BTC's social dominance to decrease. Santiment explained:
"Traders are chasing short-term pumps right now to salvage losses. Weak hands dropped out of crypto in 2022, & long-term traders are waiting for Bitcoin to begin receiving the spotlight again. When BTC social dominance is high, prices typically rise."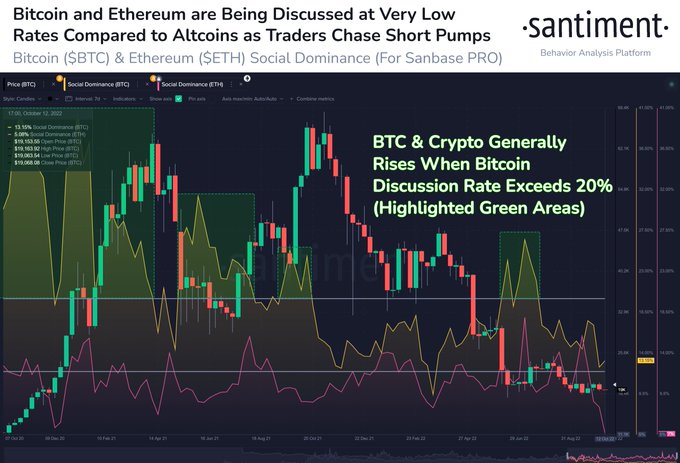 Source: Santiment
To curb runaway inflation, the U.S. Federal System has used interest rate increases to harm the crypto market. It remains to be seen what Fed moves next month, given that the CPI data was higher than expected. 
Source: Shutterstock