Bitcoin's bearish momentum continues, given that the leading cryptocurrency slipped below $19,000 amid buying pressure shrinking.
Market analyst Ali Martinez pointed out:
"Bitcoin shows no signs of buying pressure from miners and whales! Addresses with 1,000 BTC or more have remained pretty much flat since August, while miners' reserves have found a floor of around 1.86 million BTC."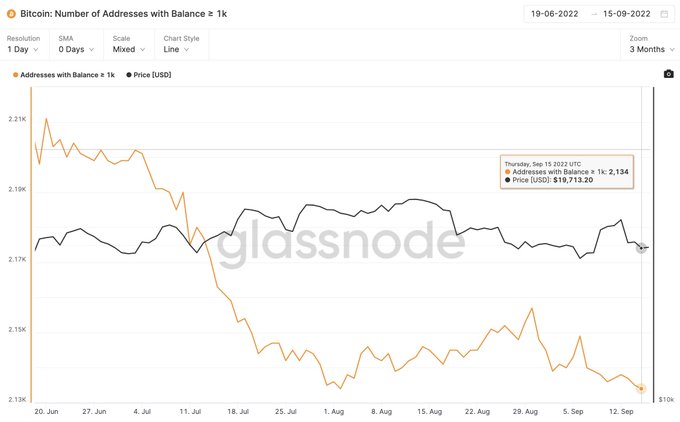 Source: Glassnode
BTC must have this trait in order to launch an uptrend, as buying pressure is a stepstone towards a bullish run. 
The flip side is that more BTC has been migrating to crypto exchanges, which suggests the emergence of selling pressure. Crypto insight provider Santiment disclosed:
"1.69M total Bitcoin (currently the equivalent of $33.5B) was moved to exchanges from September 7th to 13th. This was the highest amount of BTC moved since October, 2021."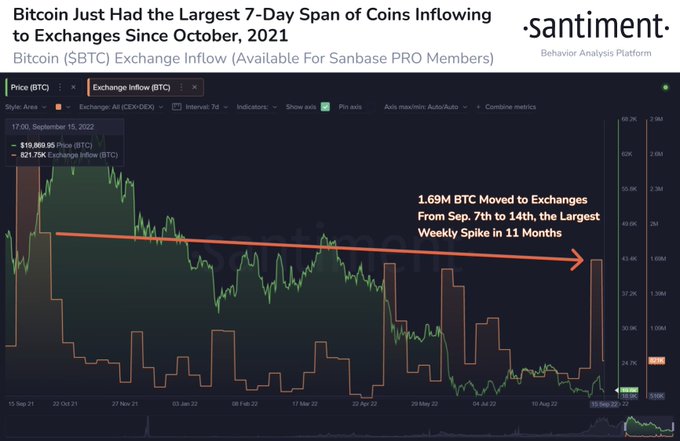 Source: Santiment
When coins are transferred from cold storage to digital wallets for liquidation, it is usually a sign that selling pressure is building.
In one instance, in just 15 minutes, long liquidations reached $29 million. Market insight provider On-Chain College stated:
"$29 million in Bitcoin long liquidations in 15 minutes as price drops below $19k."

Source:Coinglass/On-ChainCollege
Bitcoin dropped 7.96% over the past 24 hours to $18,447 in intraday trading. It remains to be seen how the world's top cryptocurrency will fare in light of regulatory concerns and tightening global monetary policy. 
Investors are already preparing for volatility because of the big interest-rate increase, which is expected to occur this week. Federal Reserve (Fed), to combat price pressures 
Source: Shutterstock