Ethereum (ETH), reached $1,770 highs, a scenario last seen on June 10, as more momentum continues to trickle in to the network.
Market insight provider Santiment pointed out:
"Ethereum had a big Thursday, soaring above $1,770 for the first time since June 10th. This spike was just two days after ETH hinted at a big move following its AllTimeHigh in address activity, breaking over 1 million for the first time in history."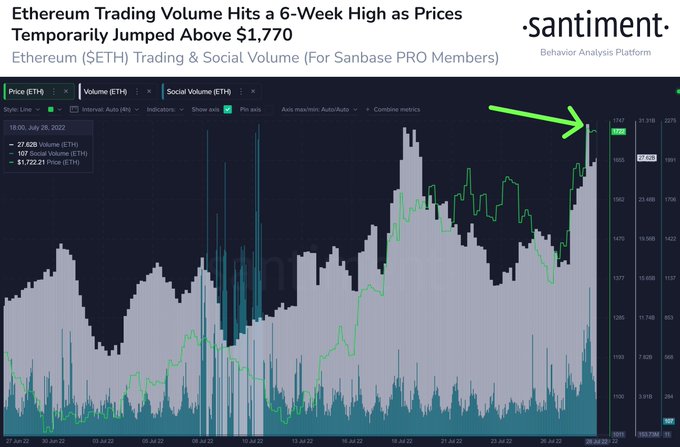 Source: Santiment
Although Ethereum fell to $1,715 in intraday trading, it continues to see an increase in address activity. 
The number of non-zero addresses, for example, has been growing at an alarming rate. Glassnode is a crypto analytic company explained:
"The number of non-zero ETH addresses just reached an ATH of 84,626,207."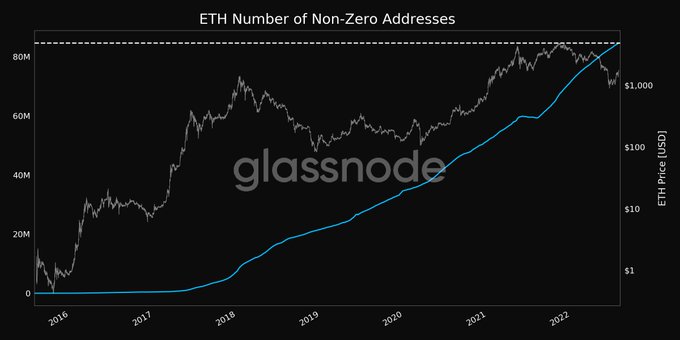 Source: Glassnode
Blockchain.News reported this indicates that Ethereum's network is growing in participation. 
The bullish momentum ETH is experiencing has triggered profits increases to reach a monthly peak. Glassnode noted:
"The number of Ethereum addresses in profit (7d MA) just reached a 1-month high of 47,590,069.435. Previous 1-month high of 47,585,913.821 was observed on 25 July 2022."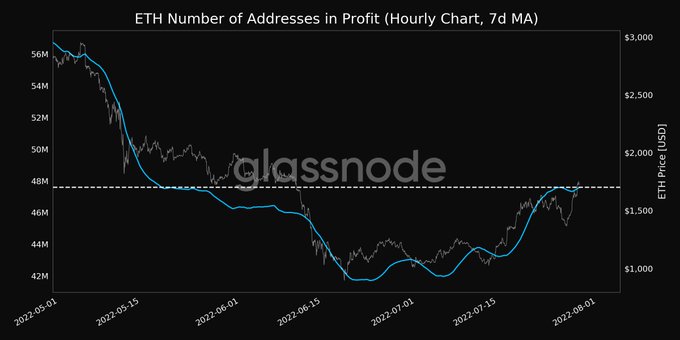 Source: Glassnode
The current trend upwards in Ethereum seems to be due to an increase in address activity and the recent merge news. 
During a recent developers' call, the most probable date for the merge was announced as September 19. 
The Ethereum network will be transformed into a proofof-stake by the merger.PoS) consensus mechanism from the current proof-of-work (PoW) framework, which has been elusive for a few years.
Source: Shutterstock