Ethereum (ETH), which was launched on September 15th, has struggled to gain the right footing after the highly-anticipated Merge.
According to Bloomberg, the second-largest cryptocurrency, Bitcoin, fell by 10.40% over the past 24 hours to $1,305 in intraday trading. CoinMarketCap. 
This price movement is occurring amid high liquidity in the cryptocurrency market. Colin Wu, Crypto Reporter or Wu Blockchain pointed out:
"Ethereum fell below $1,300, a 24-hour drop of 10%, and the total liquidation amount in 12 hours reached $300 million. On September 21, the Fed will announce its decision to raise interest rates, and the market is expected to raise interest rates by 75bps."
Given that interest rate hikes usually have a bearish impact on cryptocurrencies, it remains to be seen how this month's review by the Federal Reserve (Fed) transpires. 
In Ethereum, a downward trend is already evident. Wu said:
"ETC hashrate is 211.11T, down 32.14% from its peak; price is $29.82, down 13% in 24h; ETHW hashrate is 35.48T, down 56.23%, price is $4.66, down 46% in 24h; ETF hashrate is 6.3 TH/s, down 82%, price is $1.22, down 19.8% in 24h."
The merger changed the consensus mechanism of the ETH network's proof-of work (PoW), to proof-ofstake (PoS), which was deemed more cost-effective and environmentally friendly.
Despite the bearish momentum, more Ether is still being staked in the ETH2.0 deposit contract. Market insight provider Glassnode stated:
"Total Value in the ETH 2.0 Deposit Contract just reached an ATH of 13,801,319 ETH. Previous ATH of 13,799,319 ETH was observed on 18 September 2022."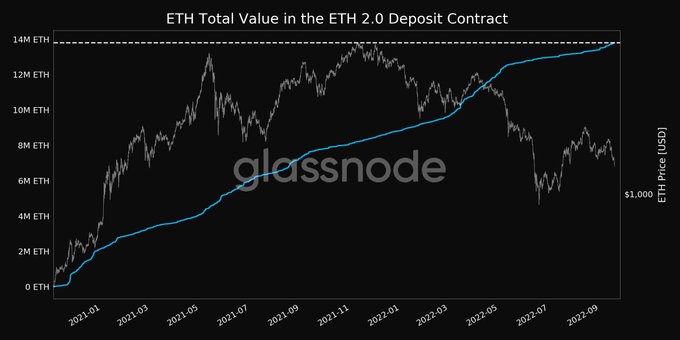 Source:Glassnode
Moreover, the transaction volume has been on the rise since then. hitting A 4-month high of $264 Million.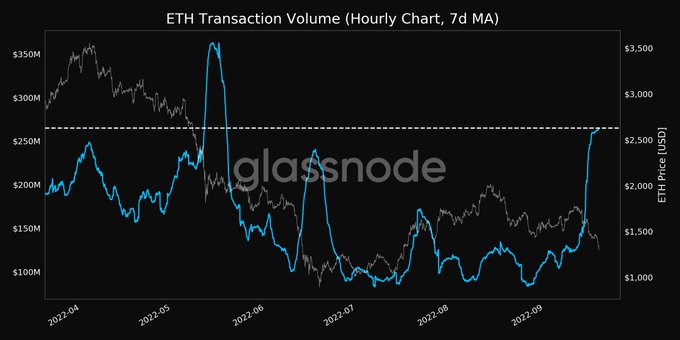 Source:Glassnode
Rekt Capital is a crypto analyst believes The Merge's bullish effects will continue to emerge over the long-term. 
Citigroup, an American multinational investment bank, had also agreed that the Merge would reduce the overall Ether issuance to 4.2% annually. This makes it deflationary.
Image source: Shutterstock