As bears continue to bite, Bitcoin (BTC), has been unable to gain a substantial advantage. Bitcoin hodlers don't seem to be slowing down in their quest for more coins.
IntoTheBlock, a data analytic company explained:
"The number of Bitcoin hodllers has been growing in the bear market. Over 42M addresses are currently holding BTC, 4.5M more than a year ago."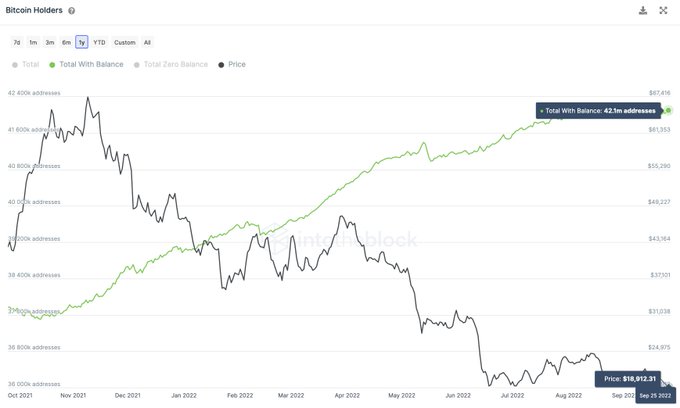 Source: IntoTheBlock
Hodling is a popular strategy in the Bitcoin market because coins can be stored for future use, and not just speculation. It also triggers a bullish picture due to the reduction in selling pressure. 
Market insight provider Glassnode pointed out:
"Bitcoin has once again rejected below the psychological $20k region, plunging Short-Term Hodlers into severe, unrealized loss. However, Bitcoin hodlers remain steadfast, with old coin spending approaching a full cycle detox."
Glassnode reported recently that although Bitcoin has been lacking significant upward momentum, it has not dampened hodlers' spirits because coins older than 3 months have an ATH of 86.3%. Blockchain.News reported. 
Bitcoin addresses that have at least 0.01 bitcoins are on the rise. Glassnode stated:
"Number of BTC addresses holding 0.01+ coins just reached an ATH of 10,746,906 Previous ATH of 10,746,518 was observed on 25 September 2022."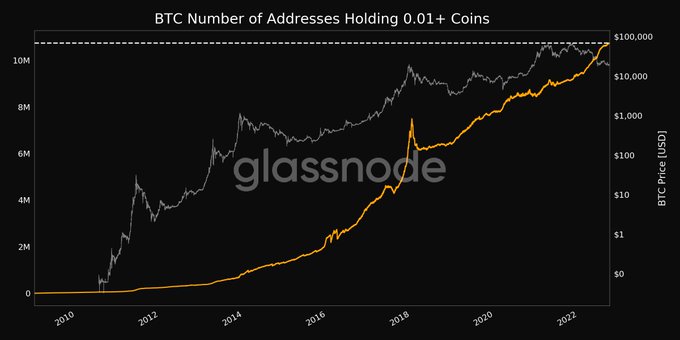 Source: Glassnode
Additionally, 101 addresses that had more than 10,000 BTC reached their highest monthly total.
Even though the Bitcoin market is not showing a bullish sign, it will be interesting to see how things pan out for the top crypto in the short-term.
"No bullish price structure for Bitcoin," senior market analyst at Cubic Analytics Caleb Franzen pointed out.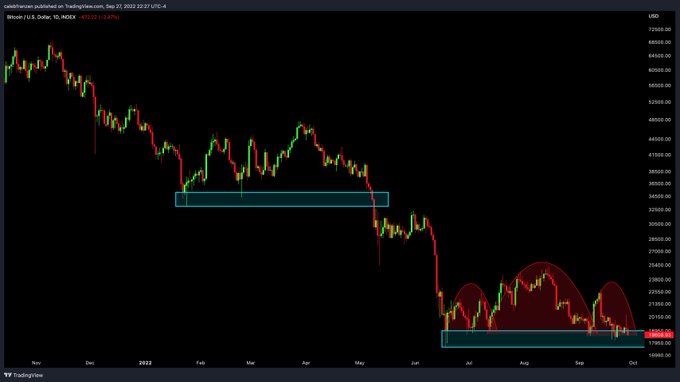 Source: TradingView/CalebFranzen
According to CoinMarketCap, Bitcoin fell by 7.23% to $18,723 in intraday trading. CoinMarketCap.
Source: Shutterstock